Resources
Digital Pest Management Resources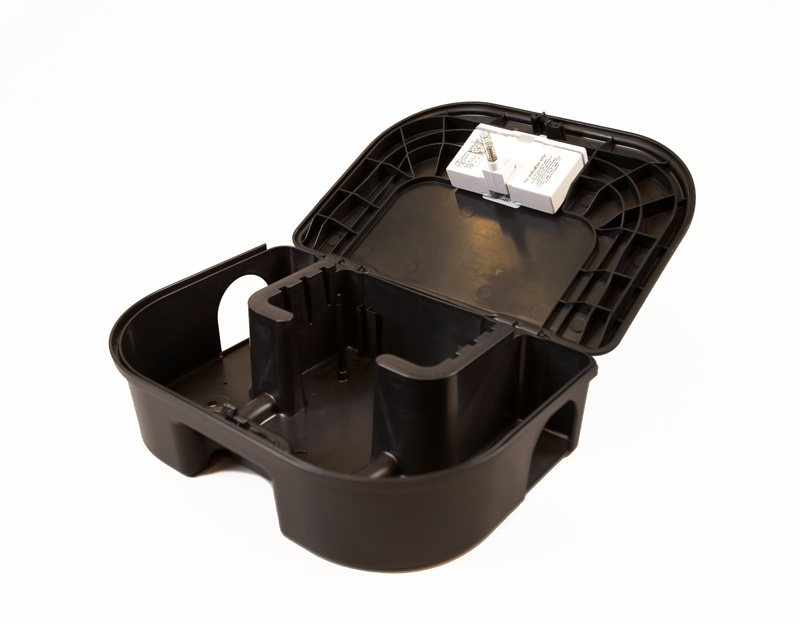 Digital Pest Management Bait Station (Envu)
Rodent Monitoring System (RMS) Overview
What is the Envu RMS?
It is a sensor network designed to provide 24/7 monitoring of rodent activity. The RMS sends an immediate alert when a mouse is captured, enabling the service provider or facility staff to rapidly respond, remove it and investigate the cause.
What parts make up the RMS?
The RMS is made up of a central Gateway and multiple Monitors. Each Monitor is composed of a Sensor and Probe retrofitted to a Multi-catch Trap or to snap traps. Individual Monitors are typically located indoors, along the walls and in other sensitive areas of a facility.
Where can RMS be used?
The system can be used inside facilities with multi-catch traps and/or snap trap retrofits. It can also be used in exterior bait stations.
How do I purchase the RMS?
You can purchase a service subscription for the RMS. The service is billed to your company each month. If you'd like to begin your free trial, call 800-331-2867.
What is included with my subscription?
The subscription includes:
Use of the Gateway, Sensors and Probes
Software, installation app, platform access, provisioning and updates
Client and customer set-up, support, training and installation assistance
Real-time data, status notifications and activity reporting
Cellular data communication charges
What powersource does the RMS need?
The Sensor (part of the Monitor) is battery powered. Each battery lasts up to 3 years.
The Gateway requires a standard electrical outlet and must have cellular signal. Our cellular signal is agnostic to carrier as it roams.
Does the RMS need WiFi or ethernet?
No, it does not utilize facility WiFi or ethernet. It is its own private encrypted network.
The Sensors communicate with the Gateway within the facility via radio signal.
The Gateway communicates with the secure Microsoft Azure Cloud, transmitting activity and daily status information.
What if our facility has a power outage?
If there is a power disruption, status data from the sensors will be stored and transmitted once power is restored.
Can I purchase the physical equipment (i.e., Gateway, Sensors) directly?
No, all equipment remains the property of Envu. It is provided to you as part of the service. The equipment must be returned when your subscription ends.
What happens if I damage the equipment?
There is a 5% damage allowance on Sensors over the term of the service agreement. Damage >5% will be charged at $200 per Sensor, $2,000 per Gateway.
What type of maintenance do the monitors require?
Monitors should be cleaned and tested at a minimum of once per year. This can be accomplished by a simple button press, which enters the monitor into audit mode. Once this has occurred, the trap can be opened and cleaned. That event will be stored in the web portal. It will not be listed as a capture, but a capture in test mode.
What kinds of traps or stations can be used?
Multi-catch traps such as the TIN CAT® (Victor) or its equivalent from Catchmaster®, ProKetch®, JT Eaton™ or ULINE®. The sensor can also be retrofitted on TREX® Snapt traps or Victor
What if I want to use a trap cover or protector?
Interior Rodent Trap covers can be used with an extension cable and can be ordered from Envu.
What if I have a rat problem not a mouse problem?
Rat snap trap retrofits are available. Please contact us at 1-800-331-2867 for more information.
How do I know the RMS is working if I'm not catching mice?
Every day, every Sensor sends a "heartbeat message" informing of its status and battery level. This helps verify system status and readiness in the absence of a capture. You can view this information in your online customer portal.
What types of alerts and messages will I receive?
The RMS generates a variety of alerts and messages. The following alerts can be received via email or text message:
Capture messages: informs of time, date and location of a mouse capture
Hearbeat messages: shows daily messages sent from the Monitors informing of status and battery level
Probe disconnected messages: shows when the probe is removed from the sensor
Monitor disconnected messages: shows when a sensor has not provided its heartbeat message for 48 hours
Who receives these messages?
You can designate the personnel who will receive these messages. You can also control the types of alerts (email or text message) they receive. Adding or removing subscribers is easy.
What types of reporting are available?
There are two types of summary reports: Area Reports and Verification Reports. You can elect to receive summary reports via email at your chosen frequency or run custom, ad hoc reports using the portal.
Area Reports are designed for individuals working on-site. They contain information about the current status and where attention is needed. These email reports contain information about captures and system connectivity. The frequency of these emails can be customized for each recipient (daily, weekly, etc.).
Verification Reports are designed for individuals with facility oversight. Typically this includes auditors, QA managers and technical managers. The Verification Reports contain summarized information about the system performance, trending information about captures, moves and system connectivity.
Both reports can be generated directly from the portal on an ad-hoc basis.
My facility can be dirty and damp. What is the RMS's environmental certification?
The RMS has an IP64 rating. It is protected from limited dust ingress and water spray from any direction.
I'd like to try the RMS. Do you offer a trial offer?
Yes, we offer a trial program. To learn more or start your trial contact us at 1-800-331-2867.