Calendar Solutions by Turf Type
Calendar Solutions by Turf Type
Bermudagrass lawns enhance landscape aesthetics but a number of pests can impact bermudagrass performance. Envu offers a variety of solutions to control problematic weeds, insects and diseases that diminish turf quality.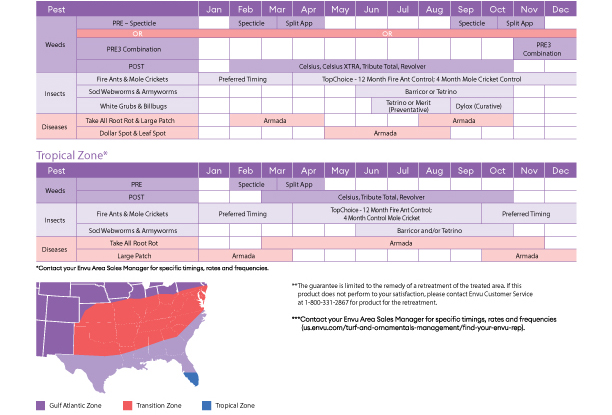 /// Download the Bermudagrass Lawn Management Calendar
TOPCHOICE IS A RESTRICTED USE PESTICIDE DUE TO TOXICITY TO AQUATIC INVERTEBRATES For retail sale to and use only by Certified Applicators or persons under their direct supervision and only for those uses covered by the Certified Applicator's certification. ALWAYS READ AND FOLLOW LABEL INSTRUCTIONS. Environmental Science U.S. LLC, 5000 CentreGreen Way, Suite 400, Cary, NC 27513. Envu, the Envu logo, Merit, Topchoice, Armada, Specticle, Celsius, Barricor, Tetrino, Revolver, and Tribute Total are trademarks owned by Environmental Science U.S. LLC or one of its affiliates. ©2023 Environmental Science U.S. LLC.
There are a number of pests that affect St. Augustinegrass and cause problems for lawn care professionals. Weeds create eyesores for homeowners, while insects and diseases weaken lawns as they damage the turf. Envu has effective products and programs for managing these pests and saving your business.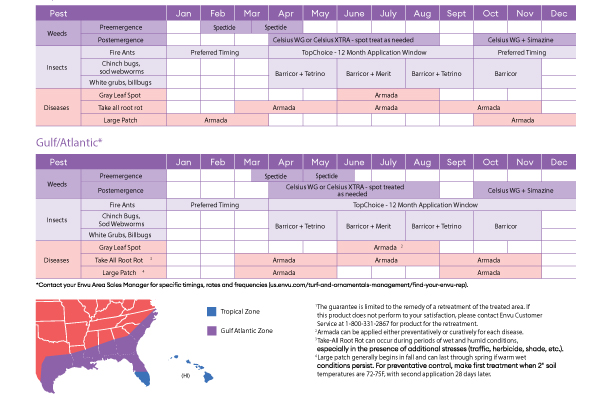 /// Download the St. Augustinegrass Lawn Management Calendar
TOPCHOICE IS A RESTRICTED USE PESTICIDE DUE TO TOXICITY TO AQUATIC INVERTEBRATES For retail sale to and use only by Certified Applicators or persons under their direct supervision and only for those uses covered by the Certified Applicator's certification. ALWAYS READ AND FOLLOW LABEL INSTRUCTIONS. Environmental Science U.S. LLC, 5000 CentreGreen Way, Suite 400, Cary, NC 27513. Envu, the Envu logo, Merit, Topchoice, Armada, Specticle, Celsius, Barricor and Tetrino are trademarks owned by Environmental Science U.S. LLC or one of its affiliates. Arena is a registered trademark of Sumitomo Chemical Co., Ltd. LLC. ©2023 Environmental Science U.S. LLC