The solution for controlling tough brush
Invora® Herbicide is an innovative brush solution helping to restore rangeland by reducing the negative impacts of difficult to control brush species, like mesquite and huisache. Invora herbicide is labeled for privately owned non-hayed rangeland and privately owned non-hayed perennial grasslands managed as rangeland. Invora herbicide delivers an extended treatment life to manage undesirable brush, giving ranchers the opportunity to restore their rangeland.
About Invora
Invora herbicide helps restore rangeland health by reducing the negative impacts of difficult- to-control brush that compete with desirable vegetation for valuable nutrients, water, sunlight, and space. Invora combines two different active ingredients to provide better brush management and control a wide spectrum of undesirable trees, brush, and herbaceous weeds.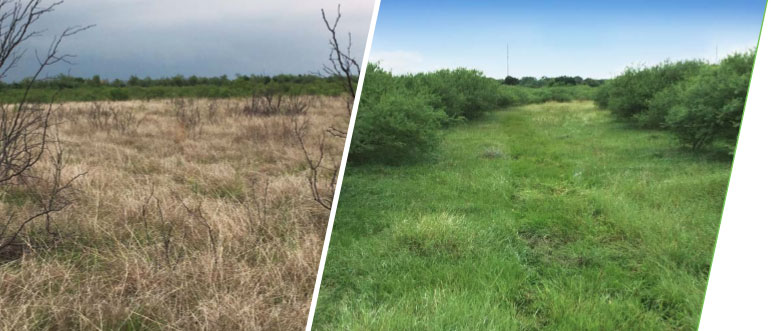 "It's like we planted seeds when we sprayed with Invora® Herbicide. It's amazing that by taking out the canopy and the competition from the mesquites, the grasses have come back."
Suzanne Schuchart, Rancher, Jourdanton, Texas
Application and use
// Invora is a patent protected, combination of aminocyclopyrachlor and triclopyr in an easy-to-use, total amine, liquid formulation
// Invora is labeled for use in Texas, Oklahoma, New Mexico and Arizona
// Invora can be applied as a broadcast treatment or as an individual plant treatment (IPT)
// Rate range for broadcast sprays is 12 to 48 oz./A; see label for use rates on specific species
// Standard broadcast rate for honey mesquite is 24 to 36 oz./A
// Standard broadcast rate for huisache is 36 to 48 oz./A
// Broadcast applications must include MSO-OS adjuvant unless allowed by label specifications
// IPT – Basal and cut stump applications are recommended with a water carrier and MSO-OS (1% v/v) instead of current diesel carrier of standard treatments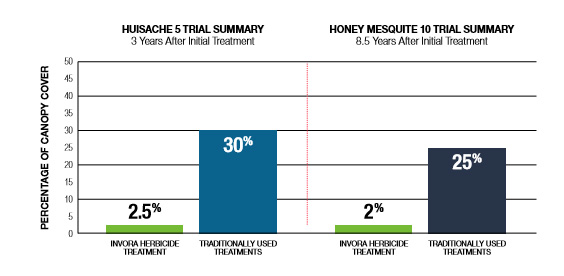 Trial Results:
Trial results collected four to six years after huisache applications (5 trials) and four to 10 years after honey mesquite applications (10 trials):
// By three years after treatment, huisache canopy cover was 30 percent with traditionally used treatments and only 2.5 percent in Invora herbicide treated plots
// Approximately 8.5 years after treatment, honey mesquite canopy cover was 25 percent with traditionally used treatments and only 2 percent in Invora herbicide treated plot
When considering use of Invora, these criteria must be followed:
// Do not use on hay production sites
// Manure resulting from animals grazing on treated vegetation within two years of application must remain on the treatment site
// Do not harvest, compost or move any treated vegetation from the treatment site for a period of two years following treatment
// Treated brush must degrade on the treatment site and cannot be removed