/// Tips and solutions for controlling nematodes
Nematode Solution Zone
Nematode Solution Zone
Tips and solutions for controlling nematodes.
Get to know nematodes
Nematodes are detrimental turf pests found in golf course greens, fairways and tees across the United States. They are small, microscopic, unsegmented worms that feed on turfgrass roots, disabling their ability to take up water and nutrients. Nematodes can be devastating to root formation and overall turf health.

Feeding Habits
Nematodes are most abundant when the turf is actively growing – in the spring and fall for cool-season grasses, and in the summer months for warm-season grasses. In addition to direct feeding, nematodes can promote fungal infection and development, resulting in greater turf damage.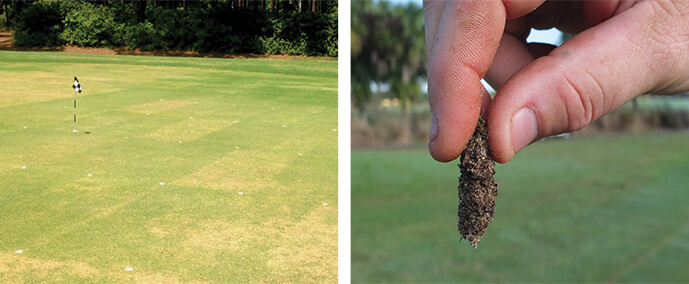 What to look for
Above ground: Patchy yellowing of turf, thinning, wilting, poor response to fertilizers and weed invasion
Below ground: Reduced rooting, root lesions, root knots or root galls, excessive root branching, injured root tips and root rots (Associated with take-all root rot, Pythium root rot and other opportunistic pathogens.)
Nematode Solutions

Meet the next-generation nematicide
Find out why Indemnify® is the end of the road for nematodes and how this innovative nematicide controls nematodes and improves root health.
Other things you can do to control nematodes
You can also use these tips to help reduce turf stress and increase turf tolerance.
Raise the height of cut
Use lightweight mowing and rolling equipment
Apply adequate and balanced fertility
Aerify to reduce compaction
Monitor irrigation/soil moisture
Apply foliar nitrogen to compensate for root loss