Annual Bluegrass Control in Warm-season Lawns
Annual bluegrass (Poa annua) remains one of the toughest weeds to control in warm-season lawns. Poa annua is a prolific seed producer and genetically diverse, making it difficult to control and more prone to develop herbicide resistance than other weeds.
Maximize cultural control – Increasing competition by the desired turf is critical to minimizing annual bluegrass:
Maintain fertility
Keep mowing heights as high as feasible
Aerate to manage compaction
Avoid overwatering
Manage diseases that may create open voids for annual bluegrass to germinate in the warm-season turf
Resistance concerns?
Poa annua has developed resistance to most herbicide modes of actions, both preemergence and postemergence options
Recent university research has shown that tank-mixing herbicides with different modes of action is more effective than rotating herbicides with different modes of action
Control options for bermudagrass and zoysiagrass lawns:
For lawns where Specticle® has never been used or has not been used for 5+ consecutive years
A single or split application of Specticle FLO; see attachment for specific rates and timing
Delivers consistent control
Preferred option for lawns where Specticle has been used alone for 5+ years in a row
PRE3: A tank-mix of 3 modes of action ((Specticle FLO + Tribute® Total + Simazine)
Delivers the most consistent control of annual bluegrass and winter annuals
University researchers recommend tank-mixing multiple modes of action to reduce likelihood of developing resistance within Poa annua
Need more info? – Read and follow all label directions, see the attached information and contact your Envu Area Sales Manager if you need assistance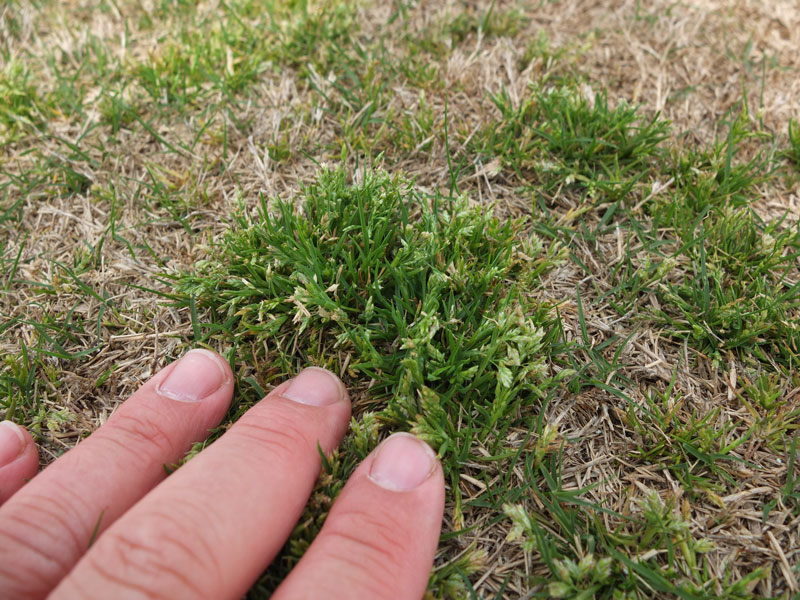 Poa annua is a yellow-green winter annual that can be very unsightly in dormant warm-season lawns. (Envu)