Fairy Ring Prevention in Greens Begins Late-Winter / Early-Spring
Fairy ring can be problematic in golf greens and home lawns if left unchecked. Effective control of fairy ring can now be achieved with preventative programs of multiple fungicide applications initiated based on soil temperature in late-winter/early-spring.
Long-term management practices for fairy ring
Dilute thatch/organic matter –with core aerification, vertical mowing, and frequent sand topdressing
Manage water, fertility, and mowing heights – to maintain healthy turf since stressed turf is most susceptible to damage
Wetting agents – can improve water movement through thatch or mat and help reduce localized dry spot symptoms which are frequently associated with fairy ring (Do not mix wetting agents with DMI fungicides, instead apply wetting agents between fungicide applications)
Supplemental venting – with solid-tine aeration or pitch-forking can help reduce hydrophobic layering and improve fungicide penetration
Chemical control
Timing

In most areas, fungicides should first be applied when 2" soil temperatures average 55-60oF
Florida or Texas - initiate applications at 2" soil temperatures averaging 65-70oF.
Sequential applications should be made on 28-day intervals

Envy fungicide options:

Golf: Tartan® Stressgard® and Mirage® Stressgard are highly effective DMI fungicides for fairy ring as well as take-all root rot and other diseases, plus the added plant health benefits and turf safety of Stressgard
Golf: Densicor® provides excellent preventive and curative control of fairy ring with no fear of turf damage or growth regulation in warm- or cool-season turf typical of some of the older DMI fungicides
Home lawns: Armada® is highly effective on fairy ring, as well as brown patch, take all root rot and other diseases of cool- and warm-season lawns

Water in all fungicides for fairy ring with at least 0.1-0.25 inch or to the depth of detectable mycelium
Benefits of DMI fungicides – Though some have shied away from using DMI's, university pathologists agree they are still the most effective of the fungicide classes for difficult soil-borne diseases. Plus they provide these other benefits:
Broad spectrum control of dollar spot, brown ring patch, anthracnose, summer patch, take-all root rot, take-all patch, and others
Limits resistance by including in the fungicide rotation every 3 to 4 weeks between other modes of action
Programs for fairy ring in warm- and cool-season golf turf – all programs are highly effective and guaranteed for satisfaction. Contact your Envu area sales manager for more information.
Application
Floriday, Texas, and Hawaii
Warm-Season Turf & Cool-Season Greens in South Transition Zone
Cool-Season Turf & North Transition Zone
1
Tartan SG 2 oz
(65-70°F soil temp)
2
(28 days later)
Tartan SG 2 oz
Tartan SG 2 oz
(55-60°F Soil Temp)
Bayleton 1.5 oz

or

Tartan SG 2 oz
(55-60°F Soil Temp)
3
(28 days later)
Mirage SG 1 oz
Tartan SG 2 oz
Tartan SG 2 oz

or


Mirage SG 1 oz
4
(28 days later)
Densicor1 0.196 oz
Densicor 0.196 oz
Densicor 0.196 oz

or


Mirage SG 1 oz
5
(28 days later)
Densicor 0.196 oz
Densicor 0.196 oz
1 Densicor is not labelled in every state, consider Tartan or Mirage if Densicor is not labelled in your state.
Need more info? – Always follow label recommendations and contact your Envu area sales manager if you need assistance.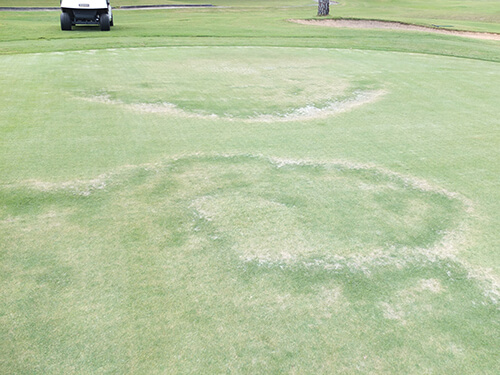 Spring applications of fungicides to prevent fairy ring in bermudagrass are critical to limit later damage in the summer (Envu).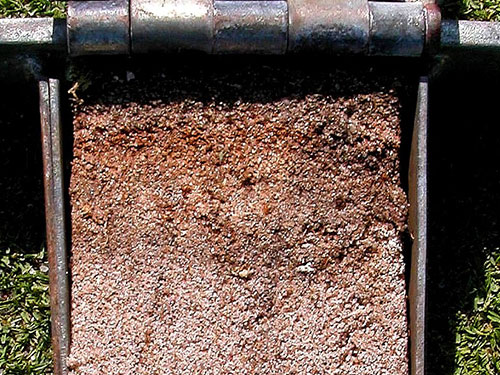 Whitish to orange mycelium is usually visible under the perimeter of the ring and determines the depth that fungicide should be watered into the soil (Envu).